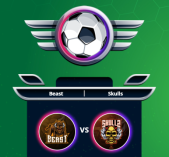 Soccer Heroes
Soccer Heroes is the place to find football superstars. Are you one of those superstars? Play now to show us your soccer talent.
During the course of the game, both the offense and the defense will report to you. This football game is going to require a lot of effort from you if you want to come out on top. You can add a point to the score very easily by simply clicking the mouse or touching the screen. This is your chance to put together the dream football club you've always wanted. If you want to be in command, you're going to have to be able to make judgments swiftly. They are going to follow in your footsteps as you guide them through an amazing adventure.
How To Play Soccer Heroes
To move about, you just to touch the screen and drag. Utilize your athlete to their full potential in both the attacking and defensive phases of the game.