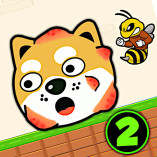 Protect My Dog 2
Protect My Dog is an intellectual game. The dog is in danger from a swarm of bees. Try to do everything you can to protect your pet.
This is going to be a game that is both academically challenging and highly entertaining to play. Fighting the Bees is going to carry on for the following 85 levels, and things are going to become a little bit more difficult with each level that you progress through. Those vicious bees that have emerged are about to sting him when they have the chance. The only way to save the dog is to set up a barrier that will prohibit the bees from approaching it and eating it alive.
How To Play Protect My Dog 2
Create a drawing line using your mouse.