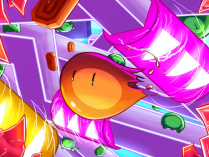 Mini Flips Plus
Mini Flips will let you transform into a cute character. You will have to take action, taking your character through all the levels.
In this game, you can choose from more than 160 different levels that get harder as you go. To finish this challenge and get all of the coins, you have to run, jump from one platform to the next. You will learn what you need to know to change your course and avoid the danger that is coming your way. Conquer the dangerous obstacles in the game and come out as the winning hero. Raise the overall quality of your game and win in the best way possible while you're at it
How To Play Mini Flips Plus
Mobile: -Touch Right to Jump. -Touch Left to use the arrow panels.

PC: -C, Up Arrow or Left Click to Jump. -Space, or Right Click to use the arrow panels.