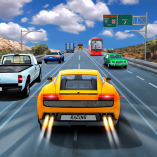 Highway Road Racing
In Highway Road Racing, many challenging courses are available. Your goal is to get a car to its destination as quickly as possible.
There is a large selection of cars from which to choose, and each one has its own set of advantages and disadvantages in the game. If you play the game rather frequently, you will be able to visit the shop and acquire a broad variety of incredible automobiles. There are a lot of competitions that will put your abilities to the test. Put your abilities as a racer to use and cross the finish line first to take home the prize.
How To Play Highway Road Racing
Arrow keys/WASD.