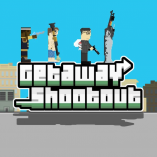 Getaway Shootout
Getaway Shootout is a thrilling "race to the finish line" game. You'll have to fight, use weapons, and push people around.
Two people can play at the same time. If you want to have fun with your friends, you could have a party at your house. During the race, you can get an edge over your competitors by picking up weapons and power-ups. To win, you have to be the first player to get to the helicopter. Throughout the whole game, you'll battle against enemies whose only way to move is to twist their bodies to move forward or backward.
You can play against a friend or against the computer to see how good you are. Collecting weapons and power-ups is necessary to move through maps that get harder as you go. To move through the levels of the game, you will need to use your weapons and power-ups in a smart way.
How To Play Getaway Shootout
player 1
W - jump left

E - jump right

R - power-up
player 2
I - jump left

O - jump right

P - power-up