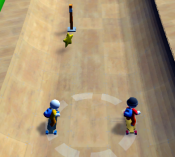 Flip Skater Idle
Flip Skater Idle is a sports game where you can surf on many amazing skateboards. Be a pro player and stay away from all obstacles.
The difficulty of the game increases as you make further progress through it. This game is a terrific option for anyone searching for a good time on skates because it features fifty different challenges that are all unique to themselves. To win at this game, you're going to need speed and dexterity that are beyond human. You should avoid colliding with any barriers if you want to skate safely. Your ability to persevere and be resolute in the face of hardship is demonstrated here. To emerge victorious, you and your rival will need to triumph over the challenges and acquire the maximum number of stars.
How To Play Flip Skater Idle
To navigate the environment, you can either use the left and right arrow keys or the up and down arrow keys on your keyboard.