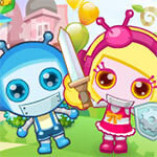 Bomb It
Bomb IT is the famous 2 player action game. The game will take you to meet dangerous enemies. Use your agility to destroy enemies.
The game is broken up into close to twenty stages, and in each level, players are tasked with completing a different set of goals. from digging for gold to eradicating the competition completely. Using Bomb IT can assist you in living a life that is less chaotic and more filled with calm and serenity. There are numerous game modes available for your action consideration. audio and video that will get your blood pumping to the max. The game is enjoyable for people of all ages and may be played by anyone. Participate in the thrilling bomb-planting action by playing the game on that particular day.
How To Play Bomb It
one player mode
2. 2 player mode
Player 1: Use keys : ASDW to move. Use the Space key to place bombs.

Player 2: Use Arrow keys to move. Press the Enter key to place the boom.