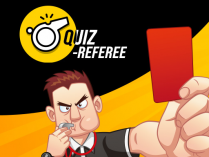 Become a referee
In Become A Referee, you act as a linesman for a football game. Do your job and make sure that the game is run correctly and fairly.
You should find it much easier to finish your job now. You don't have to run down the sideline at full speed, wiping beads of sweat off your forehead as you go. You can sit in a comfortable chair in front of the VAR screen. You can see the pitch situation from a high-quality bird's-eye view, and you know exactly what to do. Find out if the referee in 10 different football game situations makes the right call. A VAR is also available if you need help.
How To Play Become a referee
Click and use mouse to play.