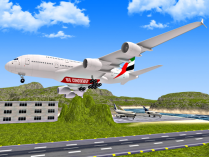 Airplane Fly 3D Flight Plane
In Airplane Fly 3D Flight Plane, the 3D graphics are beautiful. You'll be able to fly through the air like you've never done before.
You don't have to get dressed up and pay money to go to a show. You can feel like you're flying even when you're in your own home. Fly above the clouds and look down at the beautiful view. There are many different types of planes, so you can choose the one that best fits your needs. When you play simulation games, you'll feel like a real pilot in the cockpit because of the exciting gameplay, beautiful graphics, and dangerous airfields and seas that are about to change tides. The game is a lot of fun because you get to pick your own path and collect rings along the way.
How To Play Airplane Fly 3D Flight Plane
Use mouse and click to play.
Looking for a game similar to Airplane Fly 3D Flight Plane? Then play hypercasual game right now.