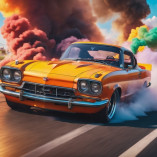 3D Car Simulator
3D Car Simulator is a 3D simulation racing game where you experience realistic driving in a wide, open universe. Let's play now!
Explore a wide variety of fascinating settings and lose yourself in a world of magnificent visuals. Prepare to be transported on an experience that will literally steal your breath away. Learn what it's like to fly over crowded city streets, soar over bucolic meadows, and explore the wonders of the wild in this action-packed adventure game. There are many different kinds of cars and trucks available in the game to drive. A vehicle is a great way to show off your individuality and taste in design. The 3D Car Simulator features a number of play options, such as "free driving," "speed racing," and "challenge."
How To Play 3D Car Simulator
By mastering the skill of playing a game exactly as it is stated, you may get the most out of your gaming experience.